Student Mail Service – Office 365
Office 365 University is an app that helps our staff and students get things done from virtually any device and from almost everywhere. You can access Office 365 through Staff and Student Mail Accounts. https://login.microsoftonline.com/
Click for Student Mail and Office 365 Usage and Installation Document…


IZMIR DEMOCRACY
UNIVERSITY IT Department


Offıce 365
Office 365 is an application that helps University, Staff and Students get things done from almost all devices and from almost anywhere. You can access Office 365 through Staff and Student Mail Accounts. https://login.microsoftonline.com/


You can access Office 365 that allows you to move your Microsoft Office (Word, Excel, etc.) documents to the cloud platform at  https://login.microsoftonline.com/ by using your student/ staff email account information. You can access your Office documents that you have moved to cloud or create new ones through the relevant portal. Also, with the help of the installation file you will download via the link "Install Now", you can install the desktop version of the Microsoft Office Application on your personal computer (Maximum 5). You can access Office 365 mobile applications on the store (Google Play, App Store, etc.) off your mobile device's operating system with your corporate e-mail account information. In addition to these opportunities, you can use 5 TB storage space on the platform with the OneDrive application within Office 365.


Fully installed Office apps
Get the latest 2016 versions of Word, Excel, PowerPoint, OneNote and more directly downloaded on your favorite devices. Even if you're not online, you can continue working.
Install on multiple devices.
You can download Office 365 on 5 PCs or Macs, 5 tablets (Windows, Ipad and Android) and 5 mobile phones.


Access From Anywhere
Use OneDrive cloud storage to access to your documents, photos, and videos.
Always Up-to-date
All new upgrades included. So you always have the latest version as soon as it comes out.



USE OF OFFICE 365
Figure 1 Our students can access it by their extension emails std.idu.edu.tr and our staff with their extension emails idu.edu.tr at https://login.microsoftonline.com/ .
Student Passwords: TCNOIDU@
Example: 12345678901IDU@

Figure 2: On the screen that welcomes us when we log in and from the Office 365 portal, there are products that we can use online and offline.




Figure 3: Online Word Example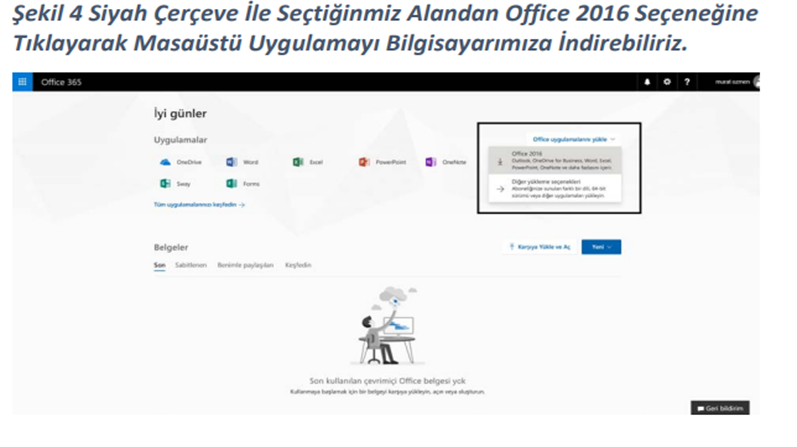 Figure 4: From the selected field, we can download the desktop application on our computer by clicking on the Office 2016 option in the fields selected in black.


Figure 5: You can do the required steps as described in the picture by clicking on Office 2016 option.
Note: Before installing Office 2016 on our computer, existing Office software must be uninstalled.



To uninstall the existing Office;
1. Control Panel
2. Programmes
3. Uninstall Program
4. Find Microsoft Office on the existing list and double click.
5. Then, after the approval is given and removed, the installation process can be started.